17 Jun

Student Spotlight: Kourtney Steen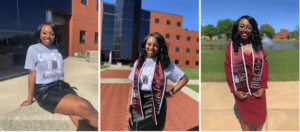 Kourtney Steen is a senior Chemistry major hailing from the Magic City of Birmingham, AL. She has served as a member of Alabama A&M's Honors Program for four years, is an active member of the Chemistry Club, President of the Math Club, and Treasurer for the Alabama A&M Gospel Choir. Kourtney is a prominent Chemistry and Math tutor and a proud Thurgood Marshall College Fund (TMCF) Scholar, a Marsha-Kelley Sutton Scholar, and Department of Homeland Security Research Student/Scholar. After graduation, she will be interning with the Department of Defense CCDC Army Research Laboratory in Adelphi, Maryland for the summer. In the fall, she will be attending graduate school at UAB, pursuing a Masters in Forensic Science. 
Service: Kourtney has donated almost two years of consistent service at Lakewood Elementary School in Huntsville, Alabama as a Tutor and Mentor. She has also volunteered with the Ronald McDonald House.