23 Jun

Student Spotlight: Ezra Gray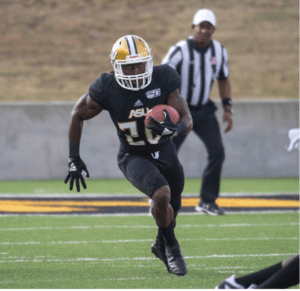 Ezra Gray
Hometown: Lynn Haven, Fla.
Major: Computer Information Systems
Sport: Football
Accolades:
2x Magic City Classic Coca-Cola Scholar-Athlete
CoSIDA First Team Academic All-America
CoSIDA First Team Academic All-District
FCS ADA All-Academic Team
FCS ADA Postgraduate Honoree
Dean's List
First Team All-SWAC
Postgraduate Plans:
Upon graduation, I will enroll in graduate school at Alabama State University, pursuing a master's degree in Applied Technology. While in the program, I will actively seek out internship opportunities, to secure a job, within my career field. My top three companies I am interested in working with are Apple, Amazon, and Google. The reason why I have targeted these specific companies is that I've earned multiple certifications such as Swift Programming (Apple), Amazon Web Services, and the Microsoft Office Suite. My long-term goal is to become an Applications Development Manager, managing and developing my own apps with the potential to recreate the social norms of the world through technology. Eventually, I will also become an Angel Investor, investing in multiple start-up companies.