29 Jul

Student Spotlight: Darian Payne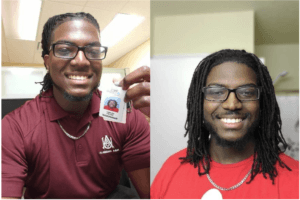 Darian Payne, is an AAMU alumnus from Mobile, Alabama, with a degree in Electrical Engineering and a concentration in Microelectronics (VLSI).
As a student, he was a member of the Institute of Electrical and Electronics Engineers (IEEE), National Society of Black Engineers (NSBE), and the AAMU Rocket & Rovers team. Darian was also a STEM Star Scholar and a 4-year participant in the University's Honors Program, where he served in various leadership positions.
He earned many academic awards during his tenure — Dean's List, multiple Presidential medallions, and graduation honors, Magna Cum Laude 3.75 GPA. He has now begun his career as a REDI Engineer at NextEra Energy in Juno Beach, Florida.
Darian was a volunteer with the St. Jude's Walk/Run program throughout Madison County and played an instrumental part in the setup for major events and leading campus initiatives aimed at fundraising for their organization. Darian also volunteered at Huntsville's Downtown Rescue Mission, as well as the Boys & Girls Club in his hometown of Mobile.